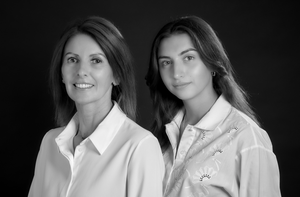 The creators
A mother-daughter duo, a common passion for the world of beauty.

Ysabelle was born on July 7, 1969 in the Rhône-Alpes region.

Raised in the heart of nature by a sporting father, Ysabelle inherited deep human fundamental values ​​on which she relied to live her life: perseverance, courage, willpower and pride.
It is on these founding values ​​and rich in a professional career in the world of beauty, that at the end of 2021, she decided to work on the launch of her brand EXKYZ.
Very close to her daughter Emily, 19, a business school student who fully shares the EXKYZ values, the adventure begins together because it is important for them to live this journey together.
Their desire is to share these values ​​with all women so that each can fully develop their potential and their lives...
Because every day counts!
Ysabelle & Emily